SOURDOUGH STARTER CULTURES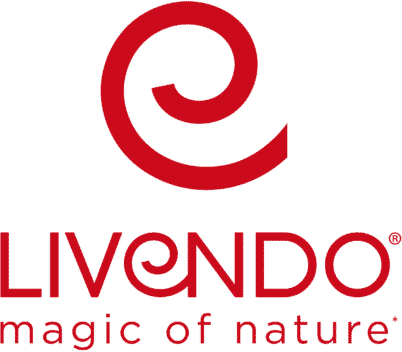 Sourdough Starter Cultures are used to obtain sourdough with the desired characteristics for baking thanks to a careful choice of species and strains (usually a combination of yeast and bacteria). 
Lesaffre's expertise in this field allows us to assist you in the choice of substrates when fermenting sourdough.
Pure Strains
Our LIVENDO starters are formed from a combination of pure and carefully selected strains of lactic bacteria and yeast and are used to produce highly developed acids and aromas in dough.
Consistency
Our LIVENDO starters help simplify sourdough preparation, so that it can be completed in one step in under 24 hours. They help dispense with the tricky manipulations needed to refresh a spontaneous sourdough developed using traditional methods. There are many advantages including consistent performance and reproducible results.
Meet our Sourdough Starter Cultures Range: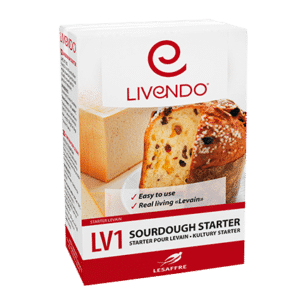 SENSORY PROFILE @ 15% USE LEVEL
Aromatic Notes:
Sourdough – Buttery/dairy – Sour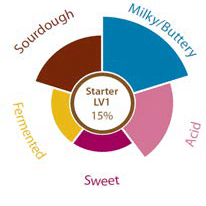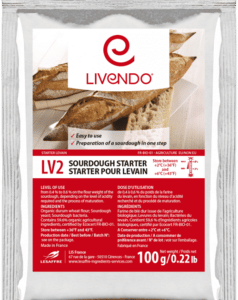 SENSORY PROFILE @ 30% USE LEVEL
Aromatic Notes:
Rye – Sourdough – Fruity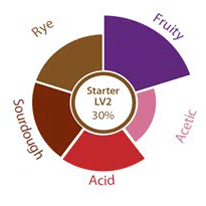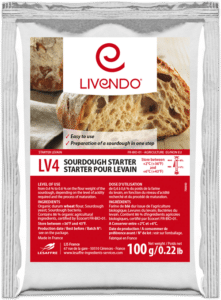 SENSORY PROFILE @ 30% USE LEVEL
Aromatic Notes:
Sourdough – Acetic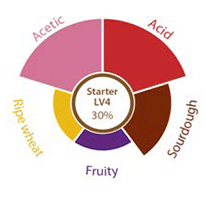 LEVEL OF USE
0.2% to 0.5% on the total flour weight depending on the product reference and the desired level of acidity and maturation process.
INGREDIENTS Sourdough bacteria, sourdough yeast.
INSTRUCTIONS FOR USE
Dissolve the contents of the sachet in water at a temperature of 30-35°C. Add flour and salt. Once a smooth mixture has been obtained, cover and leave the dough to rest for 18 to 24h at 30°C.
PACKAGING
50g or 100g sachets 1 kg, 6 kg and 10 kg boxes.

STORAGE Keep at between -18°C and – 25°C or between 2°C and 6°C D.M.D. (date of minimum durability) 24 months from production if stored between -18°C and – 25°C or 12 months from production if stored between 2°C and 6°C.
*LV4 GF – Gluten free Sourdough Starter Culture available.
MORE THAN TASTE, MORE REASONS TO LOVE IT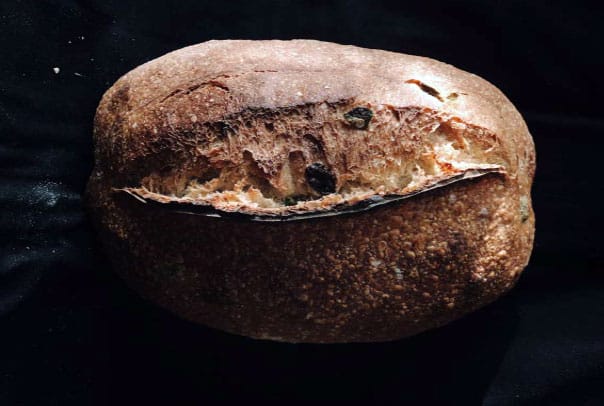 Lesaffre's new sourdough signature, Livendo, is an emotive brand that is imaginative, innovative and appealing to give pleasure to the consumer.