We shine the spotlight on one of the major factors influencing acts of purchase and repeat purchase: the TASTE of a crusty bread.
Avital tool for bakery professionals, sensory analysis consists in having a panel of experts and consumers highlight and describe the organoleptic properties (appearance, smell, sound, texture, taste) of a loaf of bread.
The "taste" factor in sensory analysis
Sensory analysis, a tool for the bread industry
Renowned for their sensory expertise, Lempa and Lesaffre have jointly developed a lexicon of precise sensory descriptors adapted to crusty bread. Used by large and medium-sized supermarkets, industrial and craft bakers in their marketing, R&D and Quality initiatives, the tool helps reconcile two approaches: the more subjective viewpoint of (non-technical) consumers, and the more objective angle of the experts (specifically trained).
The importance of "taste"
Our taste buds tell us whether the crumb or crust of a loaf is pleasant tasting or not and about its aromatic typicity.
A shared experience from Patrice VIOLLEAU, Director R&D, in the Bakery – Pastry – Confectionery sector. 
"The taste of bread is a notion that is described using precise terms and it is important to adapt these terms to the audience. In the case of bakery professionals, we speak the same language and we understand immediately the use of such descriptive terms as toasted, lactic, acetic notes, etc… Consumers express themselves more simply: "the bread is tasty", "the breads tastes nice", but cannot explain why. Our communication is thus focused on the bread production process: slow fermentation to add complex aromas, addition of sourdough for natural aromas. Nowadays, consumers are looking for bread like in the olden days, bread with a natural taste that reminds them of their childhood. They want a product that has a distinctive taste, but not too distinctively acidic. Armed with this knowledge, we direct our process towards producing bread with lactic notes that will appeal to a wide audience."
Sensory analysis in crusty loaves
Each descriptor assessed by our experts is illustrated by a model loaf, which is described in terms of taste. The intensity of that taste is then assessed by the experts and the verbal description is provided by the consumers.
3 expert descriptors:
caramel taste (illustrated by a loaf made with caramelised malt extract),
cardboard taste (illustrated by loaf baked 6 hours previously)
crackers taste (illustrated by a loaf made with 10% Lesaffre Crème de Levain®), also described by consumers as a "pizza" or "cooked" taste
The taste of the crumb in crusty loaves
13 expert descriptors:
acetic/vinegar taste (bread made with acetic sourdough), described as "tangy" by consumers
almond taste (bread made with bitter almond extract)
ripe wheat taste (traditional baguette), also referred to as a "mild taste" by consumers
grain/bran taste (bread containing 70% whole wheat flour)
fermented taste (over-yeasted baguette, frozen dough), referred to by consumers as an alcoholic taste, mushroom, yeast, mouldy, tangy, earthy
whole wheat taste (mass-produced white baguette), also referred to by consumers as a floury, damp flour, papery taste
fruity taste (bread made with rye and live sourdough)
lactic, buttery taste (cornflour bread with 2% butter), referred to by consumers as a brioche, mild, fatty, rancid dairy, milky taste
sourdough taste (lactic/acetic sourdough bread), referred to by consumers as a sharp, sourdough, yeasty, metallic, tangy, or vinegary taste
yeast taste (over-yeasted baguette, short fermentation), referred to by consumers as an alcoholic, mushroomy, bready, mouldy, yeasty, tangy, earthy taste
malty, roasted taste (malted bread), spontaneously referred to by consumers as a burnt, caramel, charred, smoked, grilled, toasted, roasted taste
hazelnut taste (praline bread)
rye taste (bread made with 90% type 1170 flour)
The flavour of the crumb in crusty loaves
3 expert descriptors:
acidic flavour (bread with ph 3.8), referred to by consumers as an acidic, bitter, strong, tangy, sharp taste
salty flavour (bread containing 2.4% salt), referred to by consumers as a tasteless, or neutral flavour when absent
sweet flavour (bread containing 4% sugar) for a brioche flavour according to consumers
Consumers will also spontaneously use the terms: excellent, smooth, aromatic, after-taste, lingering taste, fresh bread, old-fashioned bread, country, simple, farmhouse, authentic, industrial.
A sensory lexicon for the "taste" of a crusty loaf
The descriptors most commonly used by experts: crackers, fruity, acetic and vinegary, salty, fruity, acidic, ripe wheat, whole wheat, malty and roasted.
The terms most spontaneously cited by consumers: flour, grains, bread, yeast, toasted, floury, bran, sourdough, sweet, pizza taste, crusty, hazelnut flavour.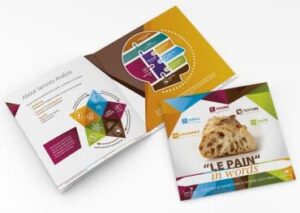 For bakery professionals, sensory analysis is not only a fundamental aspect in product assessment, but also a communication tool increasingly aimed at consumers. 
Discover other aspects of the sensory analysis of crusty loaves in our feature: SENSORY ANALYSIS: appearance, texture, smell, sound of a crusty loaf.